For a limited time SAVE thousands getting our SkyWire Spa System at NO CHARGE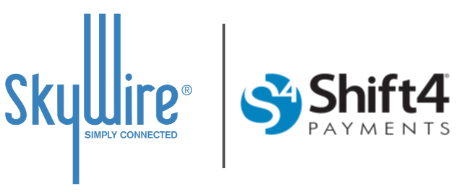 SkyWire Software has teamed up with America's leading payment provider Shift4 Payments - to create an offer that gives you powerful software to run your business and save on credit card costs at the same time!!
SkyWire Spa Software – All the Tools You Need for Success
SkyWire delivers a comprehensive, integrated solution that takes the guesswork out of your operations and makes your company thrive.

Powerful in-house booking capabilities make reservations simple and accurate, including intelligent features for multi-guest or day package reservations.

Process spa transactions with our industry-tailored point-of-sale that handles retail, products, gratuities, and gift certificate sales (including online) with ease.

Superior Guest Self-Service
Offer clients the ability to schedule their own activities or purchase gift certificates from your website - freeing up your staff to deliver a better in-house customer experience.
Gain business insights with real-world management reporting and administer commission payments, including service and retail incentives to drive provider productivity.

Cloud-based inventory management system allows for access from anywhere with robust reporting that provides details on everything from stock levels to buying trends.

Strict security privileges and data access settings to protect your guest and appointment data from prying eyes. Track when sensitive data has been modified.
Sign up with Shift4 Payments for your FREE Spa Software
Shift4 Payments offers a comprehensive solution that includes a secure payment network connection,
point-of-sale integration, point-to-point encrypted EMV devices, and full merchant services.

Lowest total cost to accept credit card payments, including free EMV terminals, waived gateway fees, and a rate-match guarantee
.

Advanced payment security technologies: EMV, PCI-validated P2PE, and tokenization - including reservations and e-commerce payments.

Centralized management of transactions throughout business - reservations, retail, online, mobile, call center, kiosk, and more.
Take Advantage of our Exclusive Offer:
Free SkyWire Software, Training, and Support

Free EMV Device for Each POS Workstation

$0 Gateway Fees with Rate Match Guarantee
What are you waiting for? Grow your business, build customer relationships and streamline operations with SkyWire Spa Software!
Simple staff-oriented appointment booking including day packages

Easy guest-driven online booking and gift card sales

Industry-specific point-of-sale with gratuity splitting, gift card and package sales

Automated guest itineraries, text confirmation and service touchpoints

Complete system security and data confidentiality for your peace-of-mind

Management reporting highlighting sales, reservation, retail and resource performance
"This exciting partnership offers a streamlined experience for our clients and their customers by bringing together all aspects of the payment process. Together, SkyWire and Shift4 provide a best-in-class solution"

- Dennis Montellano, CEO, SkyWire
GET STARTED FOR FREE TODAY!
Complete the form and one of our experts will contact you.